The success of Powered for Patients has been built on the active involvement of key public and private sector stakeholders. Future success will depend on continuing leadership from key stakeholders committed to the Powered for Patients mission of safeguarding backup power and expediting power restoration for critical healthcare facilities while helping at-risk citizens dependent on electric powered medical devices during prolonged power outages.
For more detailed information about Powered for Patients' work in your sector, please click on your sector link below.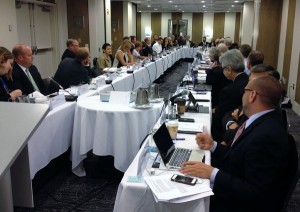 Fifty leaders from government, the electric utility industry, the power generation industry, the healthcare
sector and non-profit organizations convened in Washington, D.C. for the initial Powered for Patients
stakeholder's meeting in August 2014.